Double sided foam mat XXL – roll 1 CM (forest and mountains)
BEAUTIFUL DOUBLE SIDED FOAM MAT
Product code: MATA RULON R07
Dimensions: 180 x 150 CM

Thickness: 1 CM!
Fragrance-free, original XPE FOAM - PREMIUM QUALITY!
100% safe, formamide free!!!
Two different prints on one mat

Very soft and comfortable!

MAIN FEATURES:
Mat without age limits, already from the first days of life!
Made of highest quality original XPE foam - premium quality!
Large size 180 x 150 cm!
Very comfortable - 1 cm thick
Rolls up
Two original prints
Easy to clean and waterproof
Has an anti-slip structure
Insulates from cold floor
Thanks to its great elasticity it perfectly cushions in case of a fall
Machine stitched – no sharp or uneven edges
The mat is perfect for a child's room, living room, balcony or garden.
Can be used by people with allergies
Antibacterial
100% safe! - made of odorless XPE material, which does not contain Bisphenol A (BPA), PVC, phthalates or formamide!!!
Safety is guaranteed by European CE Certificate and EN71 tests
Packed in a comfortabe bag and in a stiff manufacturer's carton.
One side of the mat
Pattern: Mysterius Forest
Beautiful, delicate pattern matching every interior. This side of the mat will let your little one calm down and will add a wonderful style to the room. Perfect for a boy and a girl.
The other side of the mat
Pattern: Mountains with height charts
A beautiful pattern with a mountain landscape in soft colors. Additionally, there are subtle height charts on the mat.
The mat is ideal for learning crawling, walking and as a safe place to play.
Thanks to its thickness, it is an interesting alternative to a carpet for a child's room and a safe insulation against cold and hard floor. It is a perfect, soft play mat that provides comfort to the child and protects it in case of a fall.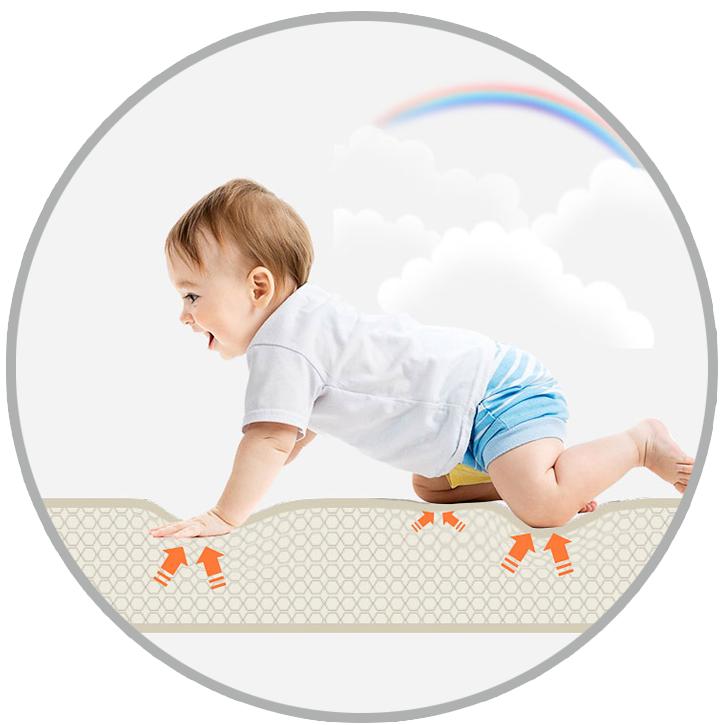 ULTIMATE COMFORT
The mat is 1 cm thick which is extremely important for the comfort of your child. It is also an ideal insulation against a cold floor.
EASY TO CLEAN
Spilled milk or wet food will not penetrate the mat. Simply wipe it off with a cloth.
ANTI-SLIPPING
The surface of the mat is made of delicate anti-slip pyramids.
HIGHEST QUALITY FOAM!
The mat is made of original XPE foam, which is characterized by much better quality than EVA or EPE foams.
XPE foam means:
Much higher density and strength
Better shock absorption and flexibility
Better thermal insulation
Efficiency and durability - much longer in use
Non-toxic, environmentally friendly material
Due to the price, most of the foam mats offered on Allegro are made of EVA or EPE foams. WE OFFER THE HIGHEST QUALITY MAT MADE OF ORIGINAL, 100% SAFE XPE FOAM!!!
EASY TRANSPORT AND STORAGE
The mat has a comfortable carrying bag with a handle.
SAFETY
The mat has been tested and received a safety certificate from SGS - a world leader in the field of inspection, testing and certification of products. It is made of odorless XPE material, which is completely safe for children's health and does not contain Bisphenol A (BPA), PVC, phthalates or formamide. Meets European EN71 standards.