Your Kitchen Helper
It will help your child to reach the top skills! Does your child love to help in the kitchen, but counter-tops and tabletops are too high to fully enjoy it? We have a solution for toddler's frustrations! Kitchen Helper - is a product that will make you forget about missing inches.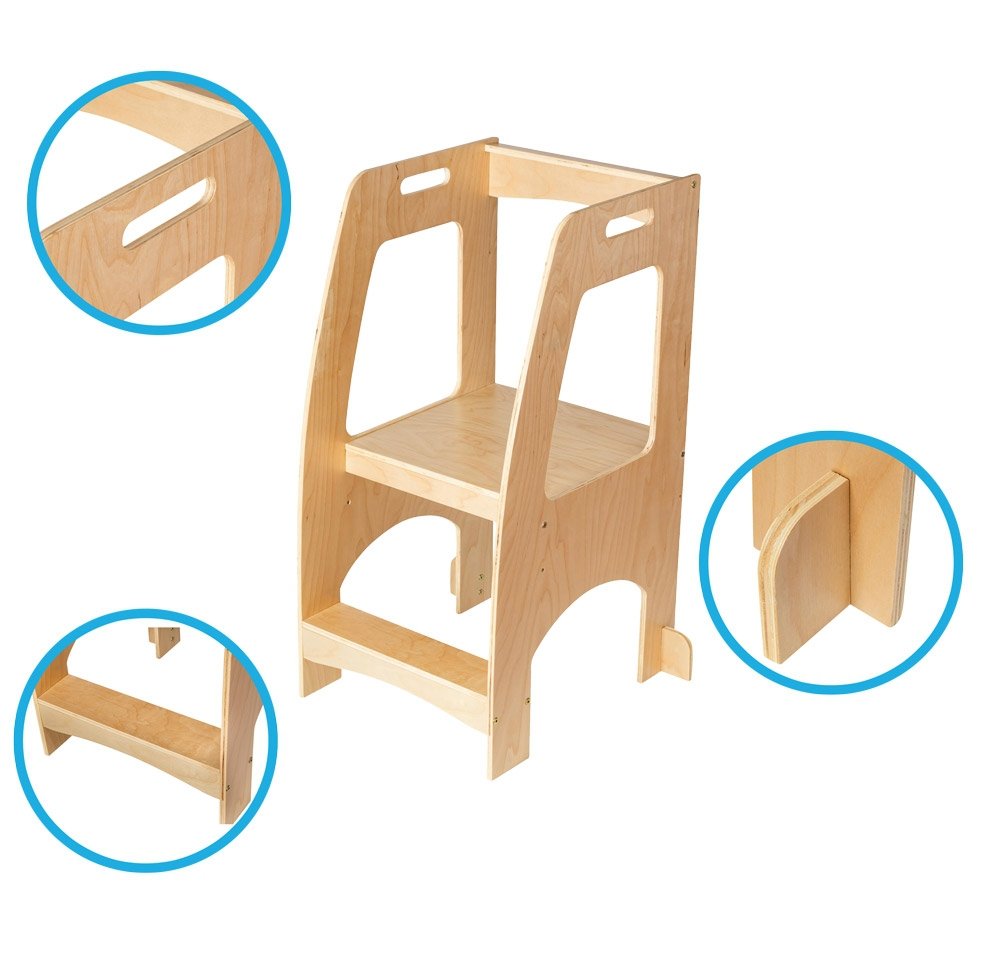 Our Kitchen Helper:
It is convenient for baby and easy to clean
Minimalist design
Compact size - the helper may be comfortably used even in a small kitchen
Mobile, so your child can easily move it independently
Streamlined shape makes the product an original piece of furniture
Additional supports at the floor level, which minimize the risk of tipping over
Practical openings for hands
Meets the requirements of EN 14988 standard
It will be useful for children up to 6 years of age

COMPANION FOR YEARS
Small users can enjoy the company of the helper for many years, as it is designed for long and intensive use. We are confident that it will pass the test of time and provide years of safe fun, helping not only in the kitchen, but also during other activities. The helper can be used as a chair or a stage of a mini-theatre! You are limited only by your imagination!

EDUCATIONAL
The Kitchen Helper will also help you to teach your child self-reliance ... :) Now, it is easy to reach the sink or help in kitchen tasks. It supports unrestricted play, helping in the development and providing a lot of fun both for parents and children!

EASY TO CLEAN
We know that the product will be used mainly in the kitchen, so you don't have to worry when it is splashed with food ;) We have properly secured the material to easily remove the dirt, even persistent stains - just use a damp cloth and wipe it out.

STYLISH
We are aware that currently items used in household must be not only practical, but also well designed. Minimalist form and natural wood colour - this combination will always be in fashion! We ensure that the product is refined in every detail.
Technical specifications:

Height: 91 cm
Width: 43.5 cm
Length: 43 cm
Length including feet: 55 cm
Seat: 41X41 cm
Seat height: 44.5 / 36.5 cm
Maximum load: 100 kg



Opinions about "Hill" Kitchen Helper
4.00
Number of opinions issued: 1
Click a rating to filter reviews
Looks good and arrived quickly. Easy to assemble. Worth noting that the tower has 4 large 'mamabrum' logos printed onto the wood in prominent positions which cannot be removed and are not shown on the stock photos here. Two of them weren't applied very well to the product we received so doesn't look good at all. We would have to sand it down and either varnish or paint the whole unit to get rid of the logos. We bought this for clean lines and simplicity but the logos don't look great and cheapen the look unfortunately. The step does it's job though and is well built.