HyperMotion TOBI BUZZ tricycle – rotatable, foldable. Color: gray and black.
TOBI BUZZ tricycle – the richest version, modern design!
Brand: HyperMotion
Color: gray (light gray frame + black finish)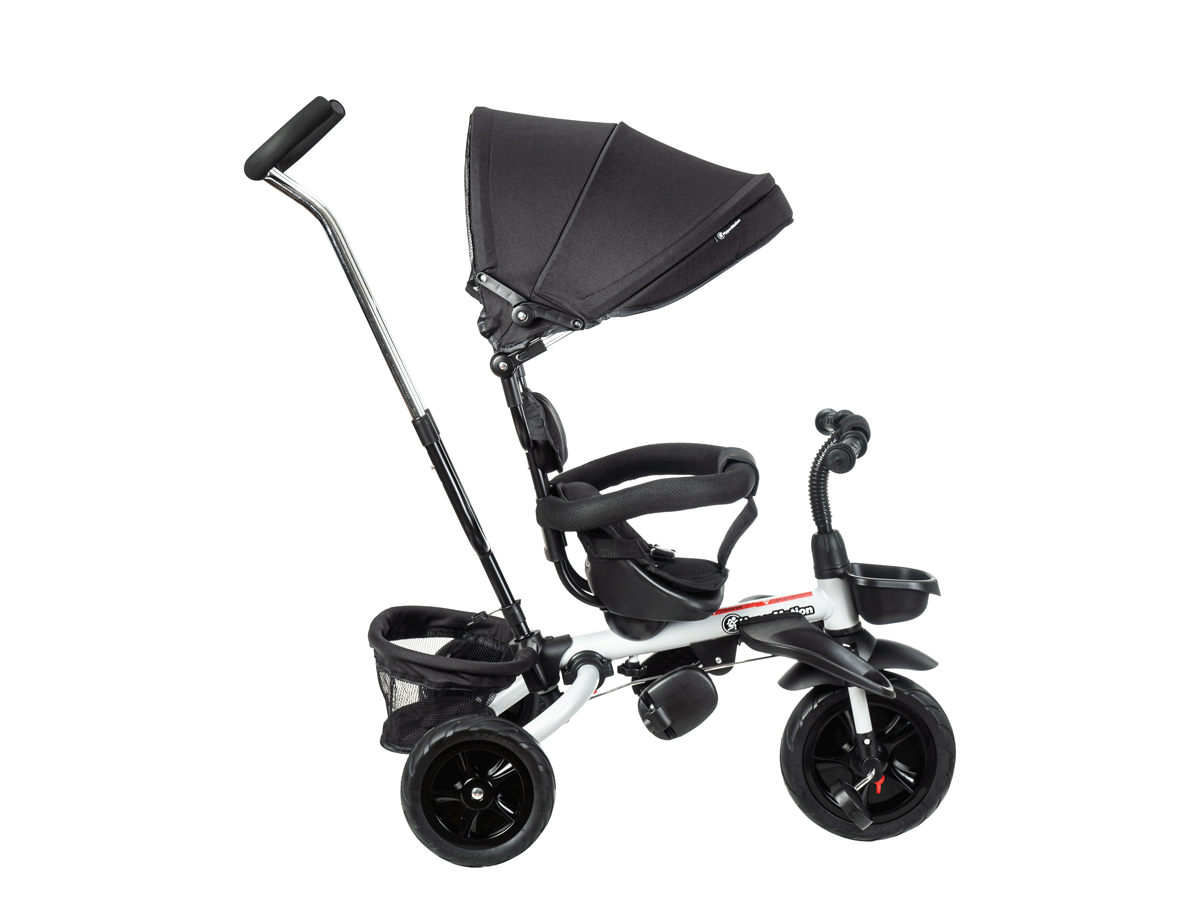 Main features:
For children from 12 to 50 months
Folding frame for easy transport
Modern design
Stylish frame in black mat
Soft materials of the highest quality (seat cover can be removed for washing)
Wide rubber (flat-free) tires ensure the highest riding comfort on any type of surface and do not require inflation!
Comfortable swivel seat – 360-degree swivel (backward- or forward-facing seat)
Adjustable steering handle (pusher) – removable for older children. The child's handlebars are coupled with the the parent's pushing handle to ensure that the parent has control over travel direction.
Freewheel function (the child can keep their feet still on the pedals or pedal at their own pace, independently of the person pushing the trike)
Front-rear seat adjustment – you can easily adjust the distance of the seat from the footrests or pedals
Two types of footrests: for younger and older children
Folding canopy with a rear mesh enabling peeking at the child
Buckle bar for getting on and off the vehicle more easily, covered with soft material. For older children, the bar can be removed.
Hip seatbelt preventing accidental slipping and falling out
Rear brake
Front and rear basket
Fender
The bike is made of the highest quality materials and is refined in every detail
It looks very impressive!
Extensive adjustment system:
360-degree swivel seat
Adjustable pusher height – 3 levels
Possibility to move the seat 2 cm backward or forward
Rear brake
The trike has been enriched with a rear brake protecting it against spontaneous movement. Just slightly push the brake down with your foot to lock it and gently lift it to unlock. This function is very useful during walks.
Rubber flat-free tires
It is an innovation in the production of wheels. Their advantage is excellent shock absorption and maintenance-free operation (no inflation checks or inner tube replacement in the case of a flat tire), as is the case with pneumatic tires. This will be appreciated by all active parents.
Refined details and top quality
The Tobi Buzz tricycle is the highest quality of workmanship. It offers comfortable use and handy features.
Multifunctional tricycle for children from 12 to 50 months
The vehicle can be freely transformed by dismantling individual elements (canopy, pusher, security bar, front footrests) so that in the end, it becomes an independent tricycle.
Time for adventure!
Dimensions of Tobi BUZZ children's tricycle:
Height with canopy: 98 cm
Overall width (at rear wheels): 53 cm
Overall length (without pusher): 77 cm
Wheelbase: 55.5 cm
Handlebars width: 40 cm
Handlebars height above the ground: 59 cm
Height of pusher adjustable from 95 to 99 cm
Height of folding footrests above the ground: 15.5 cm
Width of security bar: 38 cm
Seat height above the ground: 34 cm
The seat can be moved backward and forward within the range of 2 cm
Front wheel: 10 in (25 cm), 6 cm thick
Rear wheels: 8 in (20.5 cm), 5.3 cm thick
Total weight with all accessories : 9.4 kg
Weight of an independent trike (after dismantling the pusher, booth, security bar and front footrests): 6.3 kg
Packed in a 52 x 42 x 32 cm cardboard box. Weight with packaging: approx. 10 kg.
Features:
Age: 12-50 months
Swivel seat: yes – 360 degrees
Folding frame: yes
Freewheel function: yes
Brake: yes – rear, foot brake
Wheels: rubber (flat-free)
Footrests: yes, two types
Accessories: front and rear basket
Tricycle for self-assembly. Packed in the original manufacturer's cardboard box. Use and assembly manual included.