HyperMotion LEXI Wooden Balance Bike - foam wheels, super lightweight - blue
Lightweight wooden balance bike with foam wheels: HyperMotion LEXI
Brand: HyperMotion
Model: LEXI
Color: blue + natural wood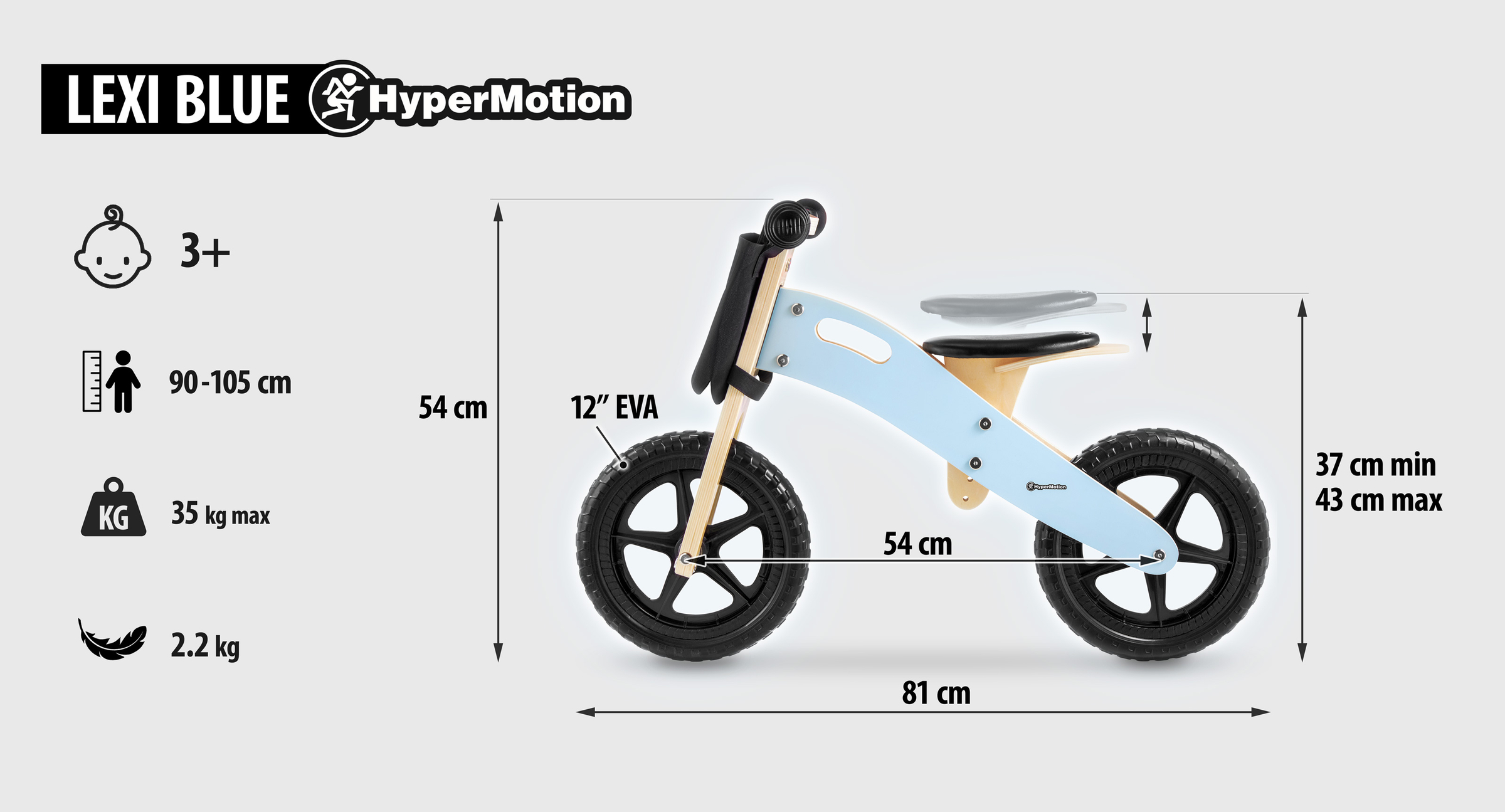 SPECIAL FEATURES:
Very lightweight - only 2.2 kg!
EVA foam wheels, with bearings, safe for, among others, floor panels
Maximum user weight: up to 35 kg
Recommended age: from approx. 3+.
Recommended for children from approx. 90 cm
Ergonomic rubber handles with a very wide and soft rim
HOW DOES THE BALANCE BIKE WORK AND WHO IS IT FOR?
The toddler sits on the saddle like on a regular bike, but instead of using pedals, they push their feet off the ground.
A balance bike is ideal for children who want to train motor coordination but are still too young for a traditional bicycle.
The child gets acquainted with the handlebar mechanism and steering of the vehicle, thus preparing to ride a real bike.
A BIKE THAT GROWS WITH YOUR CHILD
The LEXI bike has a height-adjustable seat, so you can adjust it to your child's height.
In the LEXI model, the height of the saddle is adjustable from 37 cm to 43 cm.
RIDING AT HOME
EVA foam wheels are not only puncture-proof, but also do not leave marks on e.g. floor panels and other smooth surfaces.
Their biggest advantage is definitely less weight compared to inflatable wheels.
The whole bike weighs only 2.19 kg!
SIMPLICITY, THE QUEEN OF TOYS
A balance bike is an extremely simple toy and this is precisely its greatest asset. For a child, it can be a super-fast motorbike, a spaceship or a car (in the end, they are limited only by their imagination).
DIMENSIONS:
Wheels: 12" (approx. 28 cm)
Saddle height: min 38 cm, max 43 cm
Handlebars height: 54 cm
Handlebars width: 36 cm
Total length: 81 cm
Distance between wheel axles: 54 cm
The bike is made of durable wooden plywood, 20 mm and 9 mm thick.
The set includes a clear instruction manual thanks to which every parent will be able to assemble the bike in no time!