5 in 1 Baby Tricycle, Balance Bike, Ride-on, Pusher - from HyperMotion
Tobi Rocket bicycle from HyperMotion with adjustable pusher - 5 in 1!
Extremely lightweight and foldable
Brand: HyperMotion
Model: Tobi Rocket
Color: Gray
Are you looking for a gift that not only brings a lot of joy, but also contributes to the development of your little one?
Tobi Rocket 5w1 is the perfect first bike for children from 18 months!♥
The bike supports the child's motor development and promotes balance. Providing great fun while walking with parents, it teaches to love outdoor activities.
Tobi Rocket - up to 5 options for a child from 1.5 to 5 years!
Tobi Rocket adapts to the needs and age of your little one. Importantly, it offers extremely simple and fast function changes without any tools.
In the beginning, the bike is a safe first ride for your child. It can turn into a parent-controlled tricycle or a stand-alone bike to eventually become a balance bike or a two-wheeler. It's the perfect playmate for years to come!
✅ Tricycle Rider
✅ Tricycle with pedals and pusher
✅ Stand-alone tricycle
✅ Balance bike
✅ Two-wheeled bike (with or without pusher)

Main features:
For children from 18 months to 5 years
One bike - 5 solutions!
Extremely easy change of functions of the bike, depending on the needs and age of the child
Adjustable steering bar (push bar) - with the possibility of disassembly
The best foam tires - puncture-resist, very light, do not scratch the floor
Comfortable, profiled seat
Detachable pedals,with an option to clip into special holders located under the seat
Quick folding and unfolding system
Free wheel function
Compact size and light weight
Unique design
Non-slip handles with covers to prevent accidental slipping of the child's hand
Compliant with European EN 71 safety standards
Ideal gift for any occasion ♥
Adjustable push bar
A child's first bicycle should not only be functional but also safe, which is why the Tobi Rocket has been equipped with adjustable push bar.
The parent can comfortably push the bike and maneuver it, and if necessary stop before an obstacle. This is an extremely important convenience when learning to ride.
The push bar can be easily mounted or dismounted without tools.
The height of the push handle is adjustable from 62 - 86 cm.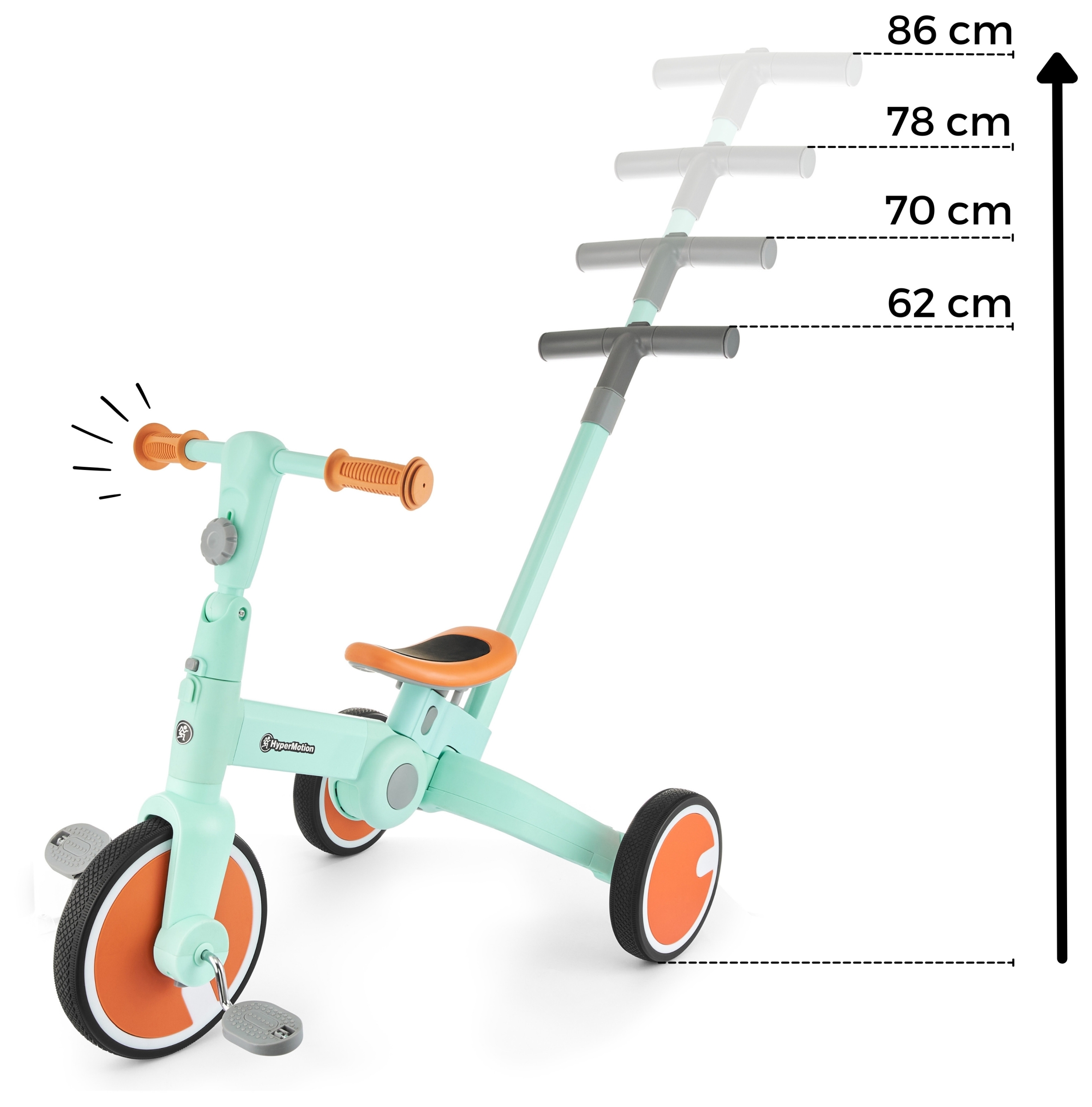 Perfect on the go
The Tobi Rocket bike is the perfect solution for mobile parents. A trip to the grandparents, a vacation, a walk around town? It's not a problem anymore! The compact size and light weight will allow you to take the bike anywhere you want.
Extremely quick folding and unfolding system for convenient storage. You can fit it in the trunk or basket of a stroller.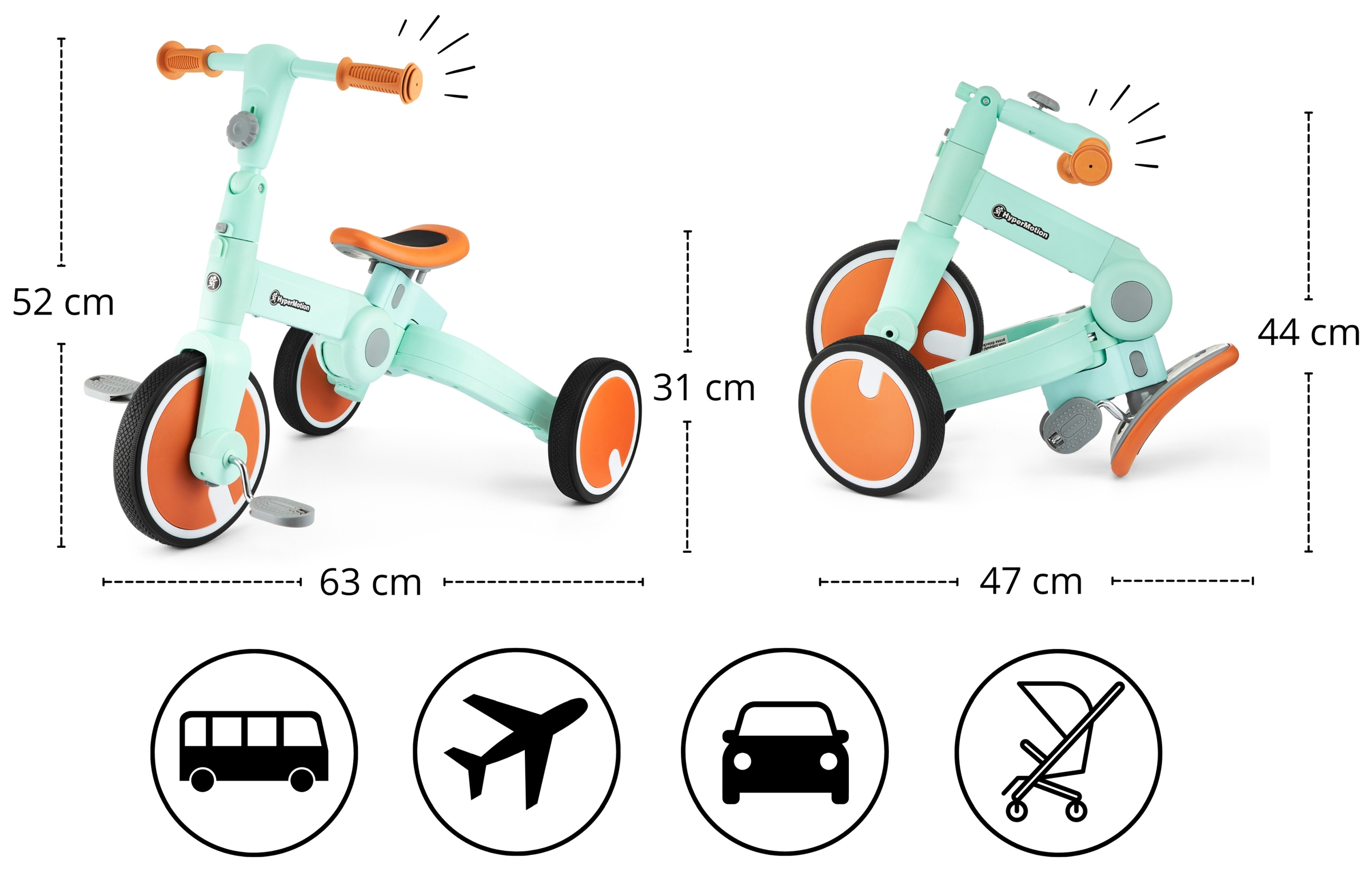 Simple change of bike functions
Thanks to modern solutions you can change the functions of the bike in a few moments - without tools!
Is your little one bored with riding a tricycle? Nothing could be simpler! Just rotate the wheels, join them together until you hear a "click", then lock them with the connector and you're done.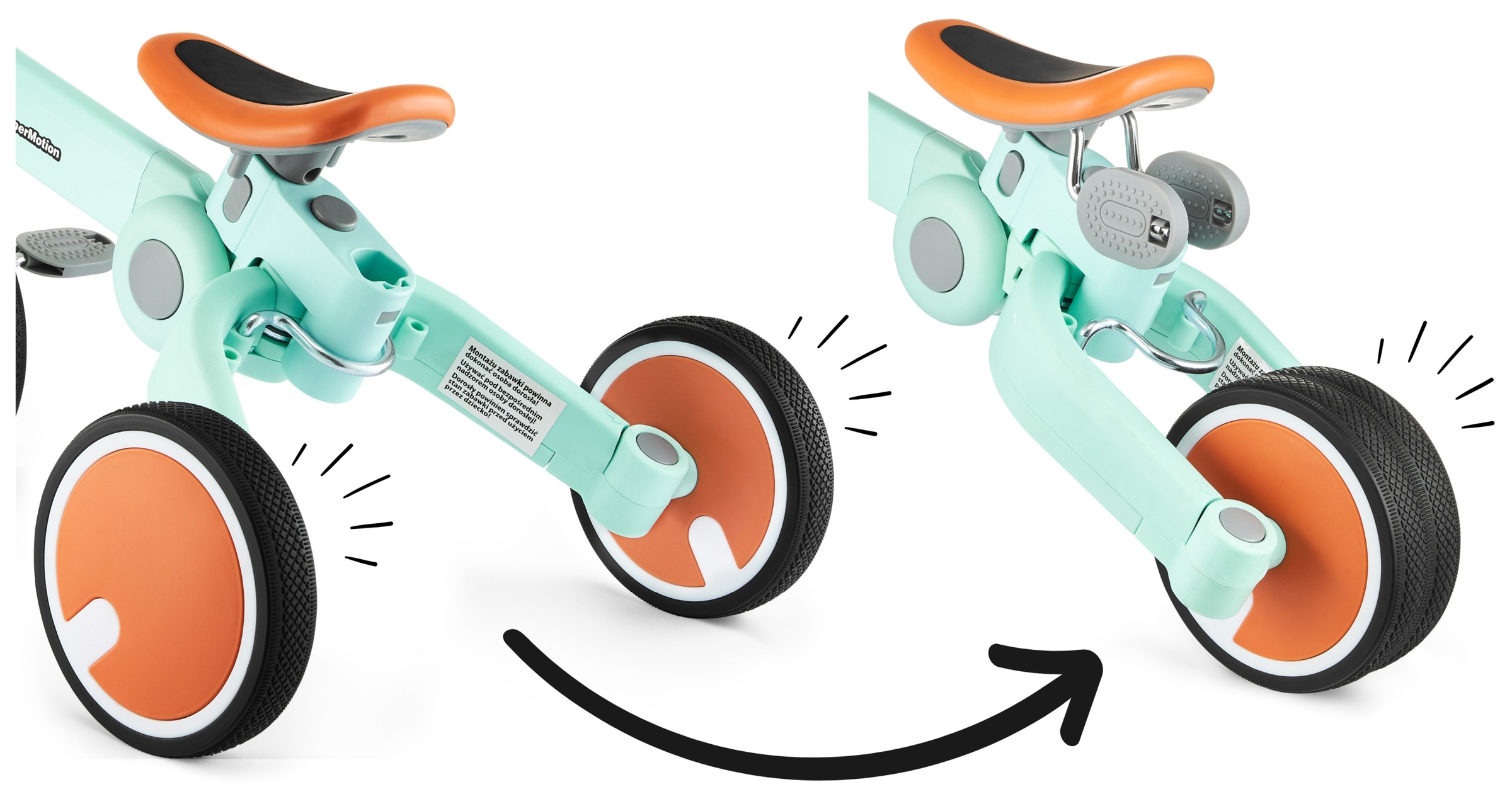 Removable pedals
The Tobi Rocket is equipped with removable pedals and special holders for their storage. In just a few moments you can turn a traditional pedal bike into a balance bike or tricycle. Just press the gray button and pull out the pedals.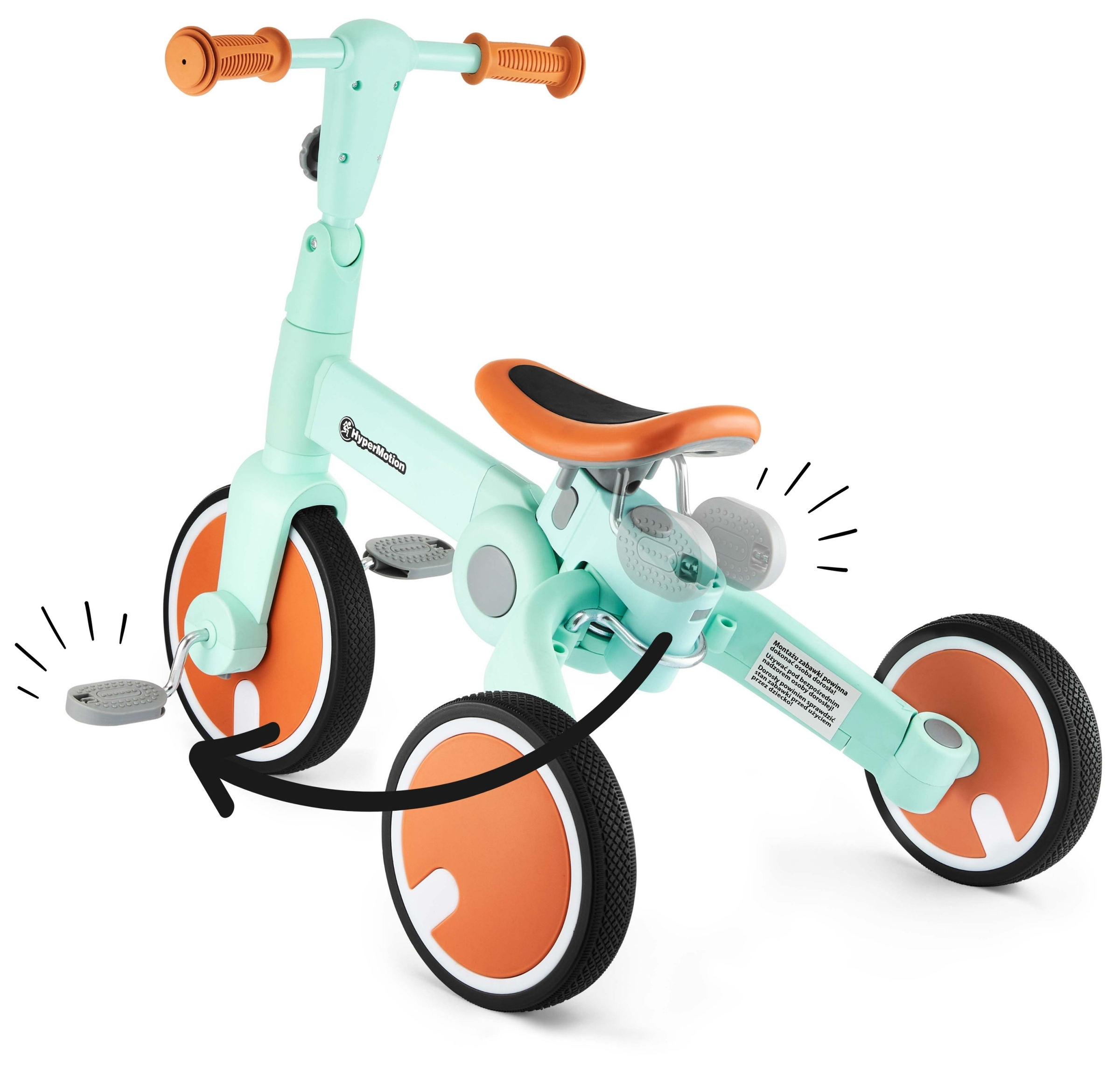 Specification:
Brand: HyperMotion
Model: Tobi Rocket
Dimensions - unfolded bicycle: length: 63 cm, Width: 43 cm, height: 52 cm
Dimensions - folded bike: length: 47 cm, Width: 34 cm, height: 44 cm
Wheels (diameter): rear - 17 cm, front - 20 cm
Saddle height: 31 cm
Push bar adjustment: 62 - 86 cm
Bike weight: 4 kg
Age range: 1.5 - 5 years
Maximum child weight: 25 kg